CASE STUDY
BRINGING A TOWN
BACK TO LIFE
In South Texas, where Mexican cartels recruit teens as expendable couriers to move drugs through the border towns and crime rates are among the highest in the nation, a former United States Marine stepped in to battle the drug problem.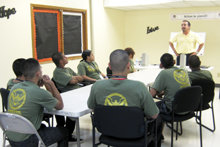 After studying at Narconon Arrowhead, international training center in Oklahoma, and becoming certified as an Advanced Narconon Specialist qualified in all aspects of drug prevention and rehabilitation, he established a Narconon Center in Harlingen, Texas.
To begin making an impact on drug abuse in the area, he conducted dozens of drug education lectures in local schools, Boys and Girls Clubs and community centers, conveying to hundreds of students the harmful effects of drugs and how and why to avoid them. The presentations proved so popular and effective, a team of Narconon lecturers was formed and has delivered drug education to 24,000 students across South Texas.
Concurrently, construction began on the Narconon South Texas drug rehabilitation center, a 24-bed residential facility set on 17 acres. The grand opening was attended by local religious leaders, Texas state representatives, a member of the United States Congress and the mayor of Harlingen, who proclaimed "Narconon South Texas Day" in honor of the center's service to the area.
26
PERCENT
DROP IN
— violent —
CRIME
ACROSS
HARLINGEN

Nearly 200 addicts have been freed from drugs in the new facility, and the demand for the drug rehabilitation services provided at Narconon South Texas continues to grow.
To further meet the needs of the area, the Narconon group collaborated with the Harlingen Community Coalition to open the Outreach Center, a rehab and prevention facility for at-risk youth. Housed in the former Harlingen police station, the center provides drug rehabilitation to court-ordered enrollees and to the youth programs run by the United States Border Patrol.
The Outreach Center also includes a unit for youth who voluntarily walk in to the facility seeking help with addiction. Every participant completing the Outreach Center program has tested 100 percent drug-free.
With Narconon drug education, prevention and rehabilitation a strong contributing factor, 2011 statistics showed a 26 percent drop in violent crime in Harlingen from the previous year. The U.S. Border Patrol publicly acknowledged Narconon South Texas for its significant role in this achievement.